Events
MONTHLY TRAINING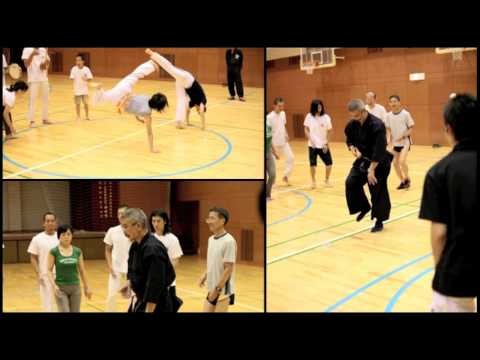 This video is a slideshow of photos taken during one of our monthly Nanba Matsuri events. The photos were taken by my friend and genius photographer David Michaud, and mostly feature Hasegawa Tomo Sensei and the students and other Nanba Instructors. We cover the basic Nanba exercises and movements, with many variations and applications, so the content is always fresh.

Each month (except August) we hold a Nanba Matsuri Training at TohoGakuen College (4th Gym), a 5 minute walk from Sengawa Station on the Keio Line. The training is usually held on Sundays or holidays, from 13:00~16:30, and is conducted by the leading teachers of Nanba in Japan, Yano Tatsuhiko and Hasegawa Tomo, assisted by William Reed and other Nanba Instructors. Wear light training wear, and socks or tabi, as shoes are removed at the door. Instruction is in Japanese, but William Reed can assist with translation if needed.

The cost of participation is 7,350 yen.

For 2010, the dates for the Nanba Matsuri sceduled begin with:
26th Nanba Matsuri:  Jan 17 (Sun)
27th Nanba Matsuri:  Feb 11 (Thu)
28th Nanba Matsuri:  Mar 14 (Sun)
In the Nanba Matsuri we cover how to perform and apply Nanba movements:
Basics of Nanba, its philosophy and applications

Nanba applications in daily life

Basic exercises of Nanba: Hone Taiso and Ogenki Taiso

Nanba Walking and Nanba Running

Nanba in Japanese culture

Nanba applied to dance, sports, and play
The Nanba Matsuri has been conducted monthly for several years, and continues to be the best place to get the latest teachings and feedback in this fast developing art.
In the mornings of the Nanba Matsuri from 10:00~12:00 there is a classical music concert by various students of TohoGakuen College of Music, who are not only studying to become professional musicians, but have also had training in Nanba and its applications to music performance.
After the training, there is an opportunity to join the teachers and regular students of the Nanba Matsuri at a local Japanese pub, where the fun and sometimes the best learning continues.
Once a month is a modest investment of time to stay current and gain new inspiration for your practice.
Join us!
Google Map to Tohogakuen College of Music
1-41-1 Wakaba-cho, Chofu-shi, Tokyo 182-8510, Japan
TOHO GAKUEN SCHOOL OF MUSIC