Stage Fright is in Your Favor
Posted by
admin
on Jan 16th, 2010 |
0 comments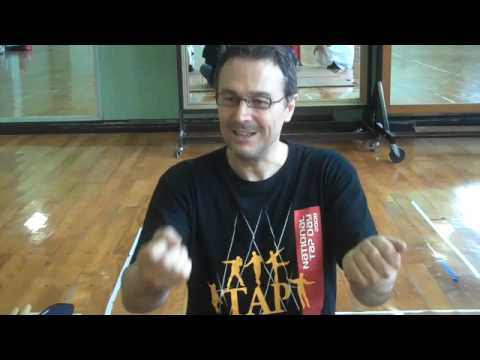 This is a 3'45" video clip from my  Nanba Tap Class at Toho Gakuen, where I teach Tap Dance to classical music students. I am speaking to the students, but here is a summary in English of what I said in Japanese.
Do you ever get nervous before a performance? I think most of us have experienced stage fright, when we have to perform in front of people under pressure. We feel like our nervousness is not only obvious to everyone watching, but that it might seriously spoil our performance.
We tend to believe that being nervous will prevent us from doing our best, and might even lead to serious humiliation if we fail.
Have you ever heard of whistling in the dark? It is what you are supposed to do if you find yourself afraid in a dark place. The problem is that it is easy to whistle when things are going fine, but almost impossible when you are nervous. How do you get yourself out of trouble when you are in trouble?
Let me tell you a story about a friend of mine, who has college age kids like you. When he was in Junior High School, he was a 13-year old nervous kid who had played the trumpet for only about six months, but for some reason decided to try out for the band. There were over a hundred kids auditioning for the band, and to his horror, the band leader insisted that each student audition in front of their peers, the entire group!
Names were drawn at random, and each student had to perform. It wasn't so much the audition itself, as doing anything in front of his peers that terrified him, teen-aged boys looking for any chance to look cool or make someone else the fool.
My friend was nervous to the point of fear, and prayed that his name might not be called. But no one was to be spared this ordeal, and when his name was called, his hands were shaking badly as he put the trumpet to his lips. He was sure that everyone was watching his every move, and that he would not only fail the audition, but would be the laughing stock of the school for months to come.
Somehow he managed to play to the end of the song, but instead of ridicule and laughter, he was overwhelmed by applause and congratulations!
His nervousness and hands shaking had inadvertently produced a beautiful vibrato effect in his trumpet playing, something he had never been able to do in practice sessions! He was suddenly a hero in front of his peers, and not only passed the audition in colors, but was awarded first chair in the band!
It is the same in Tap, when you dance in front of others, or when people are watching you dance, it is easy to get self-conscious. When you perform on stage in front of a large number of people the pressure is even greater, and you may find yourself like my friend, caught in less than positive imaginings of what might go wrong.
However, if you learn how to use the vibrations of your nervousness, the vibrato of your body's energy and excitement, you can actually end up performing better than you do in day to day practice.
In any case, nervousness is nothing to fear. Stage fright can actually be in your favor.