Taiko Tap at Toho Gakuen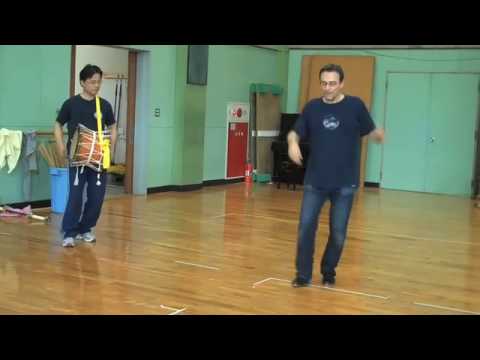 Taiko Tap at Toho Gakuen
As a Nanba Instructor, I teach Tap Dance at Toho Gakuen College of Music. This school is also the center for Nanba training in Japan, and a number of teachers in the Physical Education Department specialize in applying Nanba to specific courses, such as dance, martial arts, and sports, and because it is a music college, we also help students apply Nanba movement to improving their finesse and performance skills as musicians.
Getting ready to attend the Japan EXPO in Paris in July, I am working on finding Tap rhythms that work with Japanese music. Part of my performance there will be Nanba Tap.
This 1'22" video is a glimpse of the fun improvising and finding ways to weave the Tap rhythms in with the Japanese Taiko drum, played here by fellow Nanba Instructor Koya Sensei.
Nanba is perfect for improvisation, because you focus on how your body feels inside, and connect that to what is happening outside. The basic principles of Nanba help you find physical finesse in whatever you do.